Johnstons of Elgin
Cashmere Cable Knit Sweater : Pearl Grey
Alexander Johnston établit la filature Elgin sur les berges de la rivière Lossie en Écosse il y a plus de deux siècles. Le fondateur va insuffler une rigueur, un respect du savoir-faire, et un souci du détail qui vont permettre à la maison Johnston of Elgin de s'imposer comme une référence sur le marché des vêtements en cachemire et lainages d'exceptions.  
Johnstons of Elgin est la seule manufacture d'Écosse à pouvoir revendiquer la maîtrise de son processus de fabrication de A à Z, de la sélection de la matière première à la confection du produit final. La maison s'est vue décerner un Royal Warrant par le Prince de Galles pour la grande qualité de ses produits et la conservation de son savoir-faire bicentenaire. 
Au fil des ans Johnston of Elgin est aussi devenue une référence pour de nombreuses très grandes maisons de luxe dans le travail du cachemire, de la laine mérinos, du lambswool et de la vigogne.
100% Cachemire 
Gris Perle 
Torsade
Col Rond
2-ply 
Coupe standard, nous vous conseillons de prendre votre taille habituelle
Fabriqué en Écosse
 Le mannequin mesure 1m87 et porte une taille M
Warning: Last items in stock!
Availability date:
Size & Fit
| | | | | |
| --- | --- | --- | --- | --- |
| Size | Shoulder | Back | Chest | Sleeve |
| S | 42 | 65 | 106 | 86 |
| M | 44 | 67 | 110 | 88 |
| L | 46 | 69 | 114 | 90 |
| XL | 48 | 71 | 118 | 92 |
All measurements are in centimeter (cm)
How we measure ?
 Size & Fit
Measurement guide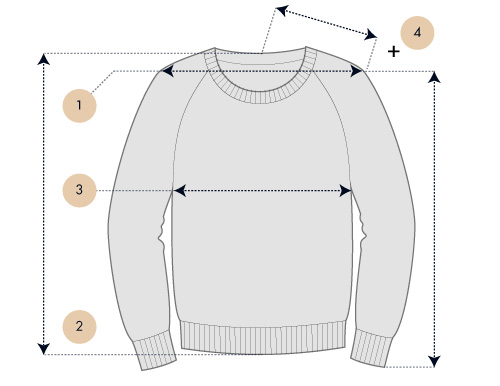 Product measurements
All items are individually measured by the BEIGE team
| | | | | |
| --- | --- | --- | --- | --- |
| Taille | Shoulder | Back | Chest | Sleeve |
| S | 42 | 65 | 106 | 86 |
| M | 44 | 67 | 110 | 88 |
| L | 46 | 69 | 114 | 90 |
| XL | 48 | 71 | 118 | 92 |
All measurements are in centimeter (cm)
Shoulder width :
Measure between the shoulder seams measured across the back.

Back Lenght :
Measure from the centre back of the base of the collar to the hem.

Chest Circumference :
Lay the shirt buttons fastened and double the measurement across the chest between the lowest point of the arm seams.

Sleeve Lenght :
Combine the measurement from the centre of the collar to the shoulder seam and the measurement from the shoulder seam to the end of the cuff.
---
Still not sure about your size and fit ?
Contact the Beige team and ask all the information your need about makers and products : [email protected]
Delivery & Returns
Estimated delivery times are 2-5 days for France, and 4-10 days for the rest of the world.
Free UPS shipping & return to your door from 150€ Worldwide.

You can exchange or return your items during 14 days after reception of your order.

For any return a UPS driver will come to your place pick up the parcel at your convenience respecting all sanitary instructions.
About Johnstons of Elgin
200 years ago 
Alexander Johnston established the Elgin Mill on the banks of the river Lossie in Scotland over two centuries ago, founding a legacy of fine craft and exquisite fabric
Over two hundred years of tradition and expertise in textile manufacturing and for them, luxury begins with outstanding craftsmanship, using the highest quality, natural fibers.
A World leading company for cashmere and woolens
Their dedication, patience and love for their craft allow them to lead the world in cashmere and woollens, sourcing only the finest raw fibers available and supplying the world's top luxury brands.
Johnstons of Elgin has been awarded the Royal warrant of appointment as manufacturers of estate tweed HRH The Prince of Wales, Duke of Rothesay.
This leading position is possible thanks to devoted craftspeople, some of whom have been honing their skills with Johnstons of Elgin for almost 50 years.
Their expert craftsmen take pride in every thread, every twist, every yarn and every stitch, from raw fiber in the wool store to perfected garment on the showroom floor. From dyeing to blending, carding to spinning, warping to weaving, knitting to teaseling and cutting to folding – it all happens in their own mills in the heart of Scotland.
They are the only manufacturer in Scotland to maintain the capability to take natural fibers from their raw state, through every stage of the process, to perfectly finished products.